Discover more from Our Towns Civic Foundation Newsletter
Towns and cities nationwide are today's incubators for ideas that will tell the modern story of American renewal. People are experimenting in innovative ways that drive progress. We share their stories here.
Late Summer Travels with Our Towns
A flight from DC to Downeast Maine. A spectacular and favorite route that we've flown at least half a dozen times in the past decade.
About 90 minutes into the flight north and east from a small airport near DC, we had the view that you see above: some of the coast at Kennebunk, with a snippet of the Rachel Carson National Wildlife Refuge in the lower right. A great thing about these quick, medium-distance flights is the accumulating list of places we'd like to come back and visit on the ground.
This newsletter is both a travel report and an update on Eastport, which we first introduced  a decade ago with Jim's Atlantic article called "The Little Town that Might." Leaping ahead to the state of play today, Eastport has progressed from a town with "potential" to a thriving town, now addressing some of the decisions and "good problems" that come with likely growth, rather than the challenges of decline.
As we head north beyond Mt. Desert Island and Bar Harbor, the state of Maine shows off some of its islands and its nearly 3500 miles of shoreline.
Then, on the very last inch of U.S. territory before the Canadian border and Canada's historic Campobello Island, we come to Eastport.
Annotated photo suggesting some of the activity crowded into downtown Eastport. Highlighted are The Commons; the former can company building at 15 Sea Street, down the street from a new restaurant called The Cannery; the back of the Tides Institute building; the StudioWorks artists' space, the Horn Run brewery and Phoenix wine bar, and the
Quoddy Tides
. There's activity in almost all the buildings shown here, and beyond.
Here's a guide to some of the town today:
The historic American Can Co., at 15 Sea Street, which made roll-top cans for sardines in its heyday. Hello, out there: this building is now for sale and looking for an enterprising, imaginative buyer!
The Commons. A completely renovated multipurpose building steeped in Eastport history. The Women of the Commons imagined and created a beating heart of the community 20 years ago. Watch this space.
Artists in residence. The StudioWorks Artist in Residence Program of the Tides Institute and Museum of Art has an open-door policy for residents and visitors walking along Water St. We stopped in to see Brice Garrett, a multi-talented young artist from Brooklyn (and originally from Jim's homeland of San Bernardino County, California) who is making compositions from found natural and man-made objects around Eastport.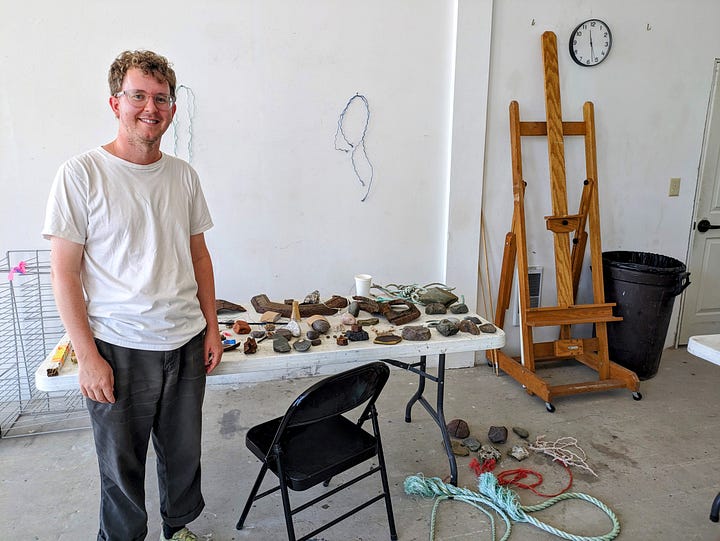 Wine bar and brewpub. The Phoenix and Horn Run Brewing are next-door neighbors on Water St. Our Towns has been waiting for this particular sign of success to appear, and now it has.
Quoddy Tides. From inside this modest, cottage-like building at the far end of downtown's Water St. is the family-owned newspaper that prints a hefty regional paper brimming with local stories every other week.
Peavey Memorial Library. Library director Dana Chevalier showed me around the library, pointing out the housekeeping and renovation projects they had tackled during the pandemic. The reading room, with new hanging lamps and resurfaced walls, still displays the 1200-page Passamaquoddy-Maliseet dictionary. Fundraising is underway to support a second edition, including 3000 more words. The PBS series on at-risk Native languages will feature the Passamaquoddy language in its fall programming.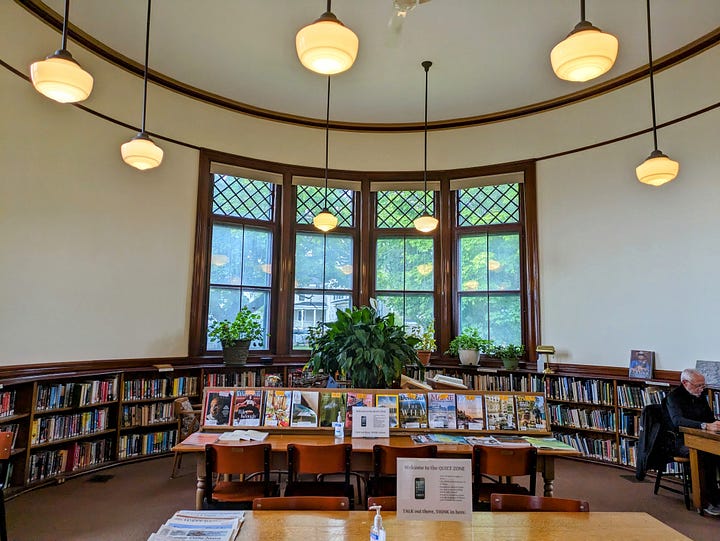 All these signs of growth and thriving are far different from 10 years ago, when Jim wrote "Little Town that Might." Today, we heard about one of signs of growth, which is "a good problem" to have—but still a problem: Too little parking on Water St.  Where will all the residents and tourists park?
We have posted on the Our Towns website a YouTube video of our conversation with David Dahl of the Maine Monitor last week in Eastport. We talked about small towns, Eastport, local journalism, and other topics raised by the engaged Eastport audience. Please have a look here.
Thanks for reading!